Posted by: MikeV

Carp questions -
06/17/20
07:15 PM
My son and I fished the CT river in the Windsor area last Saturday 6/13 and Monday 6/15. Both trips were good. Saturday: 18 smaillies(about half were decent sized) and two stripers (one was decent). Monday 15 smallies no stripers most were like this: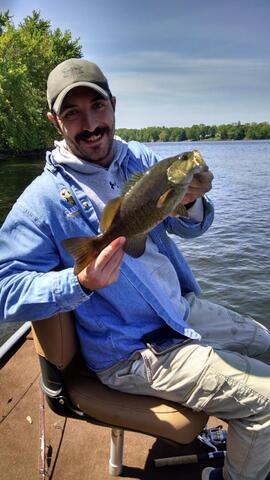 Fish were caught on jointed Rapalla and Rapalla deep diving Shad when there was water and grass was not too thick.
On Saturday we saw hundreds of carp swim by ranging from a couple of pounds to some that looked like a beer keg with fins (I am guessing well north of 20 Lbs.). They were generally in 5' of water or less. On Monday we did not see as many but still saw quite a few. Also saw a fair amount of catfish. Water was very clear. You could see bottom most of the time.
I would like to try to catch some of those carp. I will be fishing solo from my 16.5' Bass Tracker and was planning to launch from the Barber Street/under 291. A few questions:
What is the best depth and type of bottom to anchor on?
What is the hook up protocol in terms of does one strike at first indication or let them run a bit?
Is it recommended to chum?
Any other advice will be most appreciated.
Thanks for the help
MikeV