Posted by:

Mitch P.

BassnBear -
07/23/07
01:26 PM
Bio
CTF name: BassnBear
Real name: Bob Banik
Age: 40
Current city: Hamden
Hometown: Stratford
Family members: Wife Denise, sons Jason and Jordan
Occupation: ACS Dispatcher Sikorsky Aircraft
1. You were one of the first people to register for the site, joining on June 5, 2001. What made you stick around?
I think watching the site grow into a special interest group was my reason initially. Then there was a point that it turned into a family. The comradery, the generosity of the members to those in time of need, the overall fraternal feeling are now the main reasons that I chose to stick around.
2. You are also a CTF moderator. What can you tell people about moderating that might surprise them?
I don't know if it will surprise anyone, but I was really surprised at how CABIN FEVER really does affect fisherman. I mean it is down right crazy. I knew that people get ornery during the off season, but as a Moderator, I am able to see the scope of just how bad it can really get. Fisherman can be out of their minds with cabin fever and I have the emails and Mod alerts to prove it.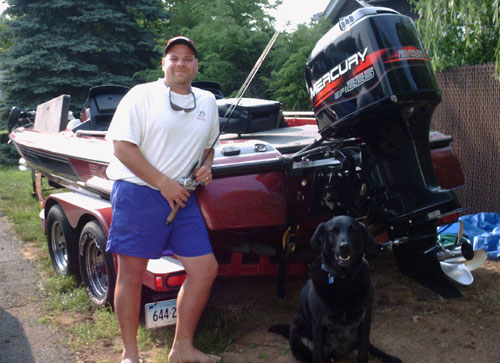 3. One of the first pictures of yourself that you posted on the site included you, your dog and your bass boat. Do you think dog's have a soul and move on to an after life or go to heaven?
All dogs go to Heaven!! When I ever got there, I always envisioned being in Heaven with my family and pets.
4. What do you think about the proposed saltwater license?
All I know is that if we require one, I'll buy one. I know there has been a great deal of discussion on the subject. And I know that I would like to see the funds for it go to the proper place and get used for fishing related projects.
5. What is your dream fishing trip/destination?
This is hard since I'm right at the beginning stages of learning a new type of fishing. I tend to go full bore about a new fishing passion and right now I'm focused on steelhead. This obsession puts my dream trip in British Columbia float fishing for steel.
6. What CT lake, stream or river do you think holds some great fishing that most people don't know about or don't fish too often?
That would be the lake down the street from me, Lake Wintergreen. NOBODY fishes this place seriously and there are some pig LMB in there. Early spring, split shot a tube. Summer, weightless power worm in blu fleck and or topwater Rapala. Fall, split shot a creature bait. Or just throw a Senko all 3 seasons.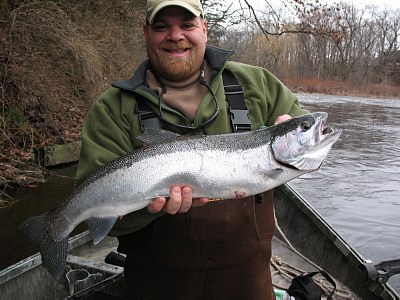 7. If you were put in charge of stopping poaching in CT, what are some of the things you would do to stop it?
Given the resources, more CO's, tougher penalties overall including tackle confiscation and driver's license suspension for repeat offenders.
8. What is your most memorable fishing experience?
Making the B.A.S.S. CT State Team the first time in '92 or '93. The 2-day tourney was on the river for day 1 and Candy for day 2. After a poor performance of 1 fish weighing a little over a pound on the river, I located big fish pitching 10" worms behind 1/2oz lead in a vast weed bed in the Sherman arm. We stayed all day and caught 11 fish and were able to cull 5 3lbers and a smaller dink. I weighed in a 17.4lb limit which was enough to make the team and the right to bring my own boat. I remember each fish that day like it was yesterday.
9. What comedians do you find funny?
Ron White and the late Chris Farley
10. Who in your life has taught you the most about fishing? What are one or two top tips you can pass on to others?
Back from 1986 to 1998, I was heavily involved in freshwater bass fishing, way beyond addicted for sure. My B.A.S.S. Federation club, CT Yankee Bassmasters, had a member named Russ Hall. He is a member of CTF also going by the name HallnBass. As a fisherman, Russ was just incredible. Efficient and consistent are the words that come to mind to describe his fishing M/O. This guy could fish and win almost at will. There was never a question if he had a limit at the weigh-in; the question was by how much he is going to beat you. Russ taught me more than any other person, book, or video. But he did it in hands on way that really put each style and techniques into easy to understand terms. Most of all, he would answer any question that you had, and ended up giving more info than you asked for.
As for Top Tips, my signature says the one I've lived by for over 20 years and actually was given to me By Russ Hall while teaching me to worm fish. "If it don't feel right, SET THE HOOK". My second tip that I really believe is one of the factors that separates good fishermen from real good fishermen. When it comes to your tackle, use the best that you can afford, select the correct equipment to fish the way you want to fish, and be meticulous when preparing your tackle for your trip. Why? Because the most insignificant step overlooked at the beginning of a fishing trip will be the determining factor that causes you to lose a fish. And that fish could be a PB or a lifer!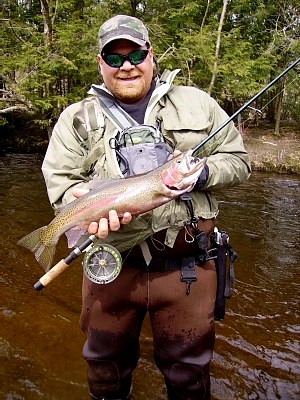 11. What fishing skill do you need to improve on?
Definitely would be casting a center pin. Right now I'm working on my spinning side cast but the ultimate goal is to Wallis cast at will.
12. It's a rainy, cold fall afternoon. You're psyched to go fishing, despite the weather. Your fishing partner decides to bail on you. What do you do?
No brainer...I go anyway. This is another instance that separates the good fisherman from the real good. An angler needs to learn how to catch fish in less than ideal conditions, especially the tournament fisherman. It all leads to experience on the water.
13. What is the best thing about living in Connecticut?
We are actually pretty centered when it comes to having access to world class fishing. 5 or 6 hours in any direction and there is some real stellar fishing somewhere in between. In state, we are really blessed to have such great diversity in species, fresh and salt.
14. Tell us a funny story about something dumb you did as a teenager.
I've done many dumb things in my life but this one stands out for me. It wasn't funny for me but everyone else had a big laugh. While at summer camp in PA, me and the guys in my cabin decided to have a milk drinking contest with another cabin. It was who can drink the most and the fastest until somebody gave up. We won by drinking 9 gallons of milk between 6 of us. We'll I got up from the table with a massive stomach cramp and knew I had to get out of there quick. I was going to get rid of that milk right then and there but I didn't know what end it was going to come out. I took about 2 steps and blew chow, sharted, blew chow again and did the green apple quick step all the way out the door leaving a trail of devastation all the way to the cabin. I took me 2 days to start feeling right and learned an important lesson. Either don't eat 4 hot dogs before you do something like this, or chew them a little better.
15. You're going on a long trip. What 10 CDs do you bring with you?
5 various Grateful Dead bootlegs that Reno has in his vast CD collection, some Bluegrass (Seldom Scene), CSNY ( Greatest) James Taylor (Greatest), My Enya compilation that I burned for long hauls, and Kidz Bop 10 if the kids are in tow.
16. When you look back on all of the fish you caught, which one were you chasing for the longest time before you finally caught her? What fish are you still after?
That fish was a keeper striper from shore. It took a lot of trial and error to get my first keeper. The fish I'm still after is a 40lber. Don't matter if it's from a boat or from the sand. It's still haunting me.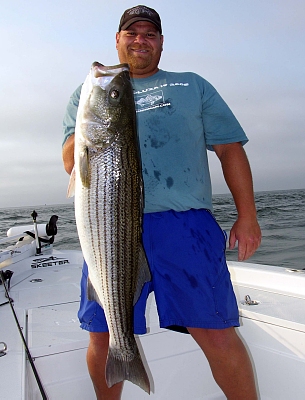 17. What activities do you like to do with your family?
We like Camping and having cookouts in the back yard with our friends.
18. The last time you had trouble sleeping, what was it that kept you awake?
The anticipation of my first drift boat trip with Got Guide this past January. Even my homemade wine didn't help LOL
19. You're given a room full of people who have never fished before. You have one minute to describe to them why they should take up fishing and what they need to get started. Go.
Ok everyone, you all work to hard and take life too seriously. You spend too many hours working and lost the meaning of life. I'm going to tell you the key to living life to its fullest. It's like this. "Fish to live, live to fish". Now go get a 5ft ultra-lite trout rod with 4lb test line (Don't even look at an UglyStik !!!) on an ultra-lite spinning reel. Get some Trout Magnet floats, some split shot in size 3, some pink power worms, and some size 12 hooks, and follow me to stream X !!!!
20. If you could take a famous person fishing with you, who would you bring?
Desperate Housewife Eva Longoria. I don't think I need to explain. LOL.