A Great Way To Fish - Tube & Worm Fishing For Striped Bass
One fisherman's discoveries and successes trolling Long Island Sound for striped bass
By Patrick J. Renna, a.k.a."Tackleman"

Quite frankly, as an angler's fishing career gets "seasoned" with many years of trial and error using different methods, techniques, lures and baits, it's not very often that he can say something has made a dramatic difference in his overall style of fishing or success rate.

However, discovering the tube & worm trolling technique has had that exact type of profound, positive effect on my ability to catch striped bass in great numbers -- and in a style which I find relaxing and affordable.

Before I lay out the basics of this style of fishing, and ultimately discuss specific tactics and equipment, let me describe my first day of using this technique.

The First Time
I had been fishing in the Niantic, CT area near the warm water discharge of the Millstone Nuclear Power Plant. I was having a ball catching 2 to 10-lb. bluefish on a variety of surface plugs and other lures with light tackle spinning gear. On one of these occasions, I watched a small aluminum boat -- not unlike my 16.5-ft Smokercraft -- trolling the rocky shorelines around the adjacent points, catching some small striped bass. I didn't pay too much attention to the boat until I saw some commotion on board, which culminated in the netting of a very nice size striper. At that time, CT regulations included a slot limit for stripers, which required that all fish between 32 and 41 inches be released. I guessed the fish they netted and returned to the water to be right around 40" -- now they had my attention!

I watched this boat release several fish over the next hour or so in that same size range. "Damn!," I thought. "What the heck is that thing they are using anyway?"

Lucky for me, I had recently started to share information with some other anglers right here on ctfisherman.com. After a few question and answer posts on the site, I ran out to the tackle shops in my area and started rigging what I thought might do the job for some of my own tube & worm fishing. Convinced I was sufficiently prepared with the proper equipment, all I needed to do was set a date and time with one of my son's for my first test of this technique.

"Ok, boys. Who wants to go to the shore with me on Saturday so I can try this new deal out on some really big stripers,"? I asked. "Dad, I have a softball game Saturday," said the oldest son. "I'm going away all weekend with a buddy, remember"? said the youngest son. "Well then," I said to my first born and namesake, "how about bright and early on Sunday"? "Dad I'm covering for someone at the Air Force Base all day on Sunday," he said. Damn! Foiled before I ever get started.

After a couple phone calls and more of the same from some fishing buddies and friends, I tried the long shot -- my fiancé. The asking soon turned to begging. But with promises of a late starting time, calm ocean, short day on the water, and dinner that night, I finally got my fishing partner.

So then, there I was, 10:00 a.m. Saturday, motoring towards an appropriate stretch of rocky shoreline along the Long Island Sound coast in Niantic, CT. Sitting behind the console, I surveyed the situation and thought…hmmmmmm…. calm seas, hot temps, bright high sun… Never mind trying to troll with my better half who's way more concerned about her tan lines than my stripers…. What's that add up to?? I'm screwed!

Yep I thought, a couple of passes here, a few tangled lines, maybe even whack the prop on some of these large boulders … and that ought to about do it. Anyway, it was time to bait up and get the lines in the water. So I gave a quick lesson in how to let out the line and engage the drag and we headed in for our first shoreline pass, dragging the tube and worm.

I placed my rod in the ancient and corroded "Downeaster" rod holder on my side of the boat and began to parallel the shore going as slowly as my old Johnson 20hp motor would take me. About 100 ft into my first pass, my rod absolutely doubled over and the drag on my old Penn jigmaster started to sing!! I was stunned…. I mean really dumbfounded… then suddenly, panicked, too, because I couldn't get the rod out of that old corroded rod holder! As I struggled to get the rod out, I started to shout instructions to my fiancé….. "Reel in the other line!! Get the net!! Steer the boat off the rocks will ya!!!" Needless to say, if looks could kill…

After a short but frisky battle, my sweetheart nets a very chunky 32" striper for me. Whoa!!!! Holy Moly!!! At this point I was ready to step up to the microphone and do my best Lou Gehrig impersonation….. "Today, I consider myself to be the luckiest man on the face of the earth" Ha!! But, I got lucky five more times that morning with two more keeper size striped bass mixed in the bunch. It was truly an incredible day that I'll never forget. My fiancé even ended up enjoying the trip, landing her own keeper and watching me transform from a 45-year-old man into a giddy 12-year-old kid!!

I have made many successful trips armed with the tube & worm since that 1st day In Niantic. In fact, it has become my most predominantly used method to consistently catch striped bass. So much so that I have modified my tackle, boat and bait to make the most of this wonderful style of fishing.

Let's take some time to discuss what this fishing is all about and how anyone with a small to medium size boat can take advantage of this fishing method. For the purposes of this article, I will primarily be describing techniques used in relatively shallow waters of 16 feet or less.

Slow Down
First of all, the most important thing to remember about the type of boat you will be using is… Can you make it go SLOW??!! That's right…SLOW, SLOW, SLOW!!!

There are days when I can pick up decent fish when moving the tubes at a quick troll. But, 95% of the time I troll at 2mph or less. With that said, you can understand why the "Yakkers" and small boat owners love this style of fishing. That's not to say you can't tube and worm close to shore with big boats and larger motors. But, getting that 200hp VMAX to chug along at 2mph, and slipping that beautiful gel coat finish on your 24ft Grady in between the boulders along the shoreline, can be pretty tricky things to do.

Consequently, an aluminum deep V or flat bottom boat from 12 to 18 feet in length seems to be ideal. This spring, I put my old 20hp to rest and purchased a 25hp 4-stroke motor. It is perfect for trolling the tube and worm -- quiet, dependable at low speeds, and great on gas.

I have seen boaters use several methods to help slow down their boats for trolling. Some use trolling plates mounted to the engine's lower unit, others use drift socks or even 5-gallon buckets dragged behind the boat to get their speed down to 2mph. Also, be aware of the tides, currents and winds -- all are conditions that can assist you in SLOWing down your trolling speed.

Important Gear
Some boat gear I consider critical for successful tube & worm trolling are: a depth finder, speedometer and a pair of good, simple style rod holders.

One of the rod holders should be mounted in a fashion that will allow the operator to face forward with the depth finder and speedometer in plain view and the rod holder within easy reach. Ideally, you should be able to watch the upcoming shoreline, your instruments and your rod tip, all within a sideways glance without having to constantly turn your head. Having to turn your head back and forth can be very fatiguing over the course of 4-6 hours of trolling. Lastly, when the rod is placed in the holder it should be perpendicular to the side of the boat and parallel to the surface of the water.

When it comes to rod, reels and line, the combinations are endless and personal preference should rule. However, I think it is important to realize that you will be catching a great number of small fish. So, I think its best to use a set-up which will allow a 24" striper to be fun to catch and a 38" striper to be a bit of a challenge.

I prefer conventional level wind reels loaded with 30-lb. premium braided line with a diameter equivalent to 8-lb. monofilament. The braid sinks fast and the rock-solid, no-stretch hook sets are awesome!

I use Abu Garcia 6500C3 reels loaded with 30lb Powerpro paired with 7-ft. medium light action Shakespeare ugly stik "Striper Rods". These lightweight rods make smaller fish fun and have just enough backbone to keep larger fish off the rocks, yet stay flexible at the tip and mid section for powerful runs at the boat. The 6500C3 reels are lightweight, have great drags and are very affordable. By the way, I picked up my reels used on Ebay for almost half the cost of a new reel.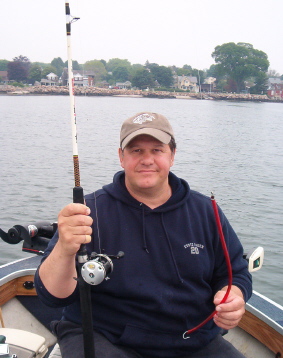 The Tube
The actual tube it seems, has as many varieties and variations as there are fishermen. Weighted, un-weighted, thin, thick, some with spinners & rudders or jointed tail sections. Lot's of combinations and colors to get excited about and they all work when fished correctly under the right conditions. But for my money, when fishing in the shallows, you can't beat a slightly weighted or un-weighted translucent dark red tube 3/8" to ½ "in diameter and about 16" in length.

After stopping at every tackle shop from Connecticut to Maine, I finally decided to start making my own tubes. Finding the appropriate tubing can be a trial for sure. I have found some on Ebay, picked some up at the sportsman shows, and even bought clear tubing and dyed it scarlet red.

Some is very soft and limp, while other tubing is slightly rigid and retains its natural coil form from the spool in was stored on. All of these tubes work for me, with certain ones outfishing others under different conditions.

I will save the details of tube making for another time. However your basic tube should consist of a large barrel swivel inserted in one end of the tube with a stainless steel or galvanized exterior wrap to hold it in place. Tied to the inside loop of the barrel swivel is a thru wire of stainless or heavy mono to a 4/0-6/0 hook protruding from the other end of the tube.

Be sure that those hooks are sharp!! I re-sharpen my tube hook after each trip with a few strokes across a sharpening stone.

I attach my tube to a 3-4 ft piece of 30-lb. fluorocarbon leader, which is tied to a premium quality 5/8" ball bearing swivel to the main line. To be honest, I'm not sure what the striper thinks the tube & worm is. I have heard people say they imitate eels or that the silhouette matches that of fish forage. All I now for sure, is that the stripers love to pounce on them!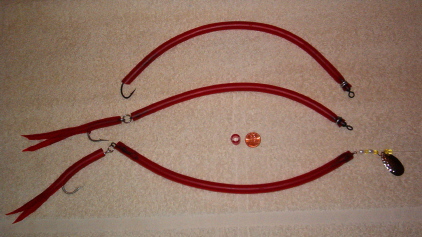 The Method
To describe in some detail how and where to use the tube and worm, let me refer to a day I had this spring as an example. I launched at daybreak, just at the beginning of the outgoing tide. This is one of my favorite tide conditions, for I believe the stripers get into the shallows with the flooding tides and follow the bait back out very aggressively when the tide turns, especially when high tide is near first light.

What made this particular morning even more promising was the fact that it was a weekday and the boat traffic in the areas I planned on fishing would be very light well into the late morning. Along with me that day, was my son Danny, who loves to fish and gets a big kick out of fishing the tube & worm. (I remember the 1st time I took him with me to do some trolling. He looked at the rig and said "We're gonna catch fish with THAT"?!)

To start that morning off, I chose a 16" rather stiff red tube because of some recent success I had had with it in the CT River. This tube retains some of the bend from the spool it was manufactured onto, and therefore has a nice natural twisting action to it.

I was targeting some typical rocky shoreline and some isolated rock piles that day. We approached the shoreline and I noticed right away that the outgoing current was very strong with a crosswind. I decided to make my first shoreline passes against the outgoing currents. I have had a lot of discussions with fisherman about what is the BEST direction to troll the tube and worm. With the current, or against the current? To be honest, it varies from trip to trip for me with no reliable pattern. I will always START trolling in the direction that allows me to use the wind, tide and currents to slow my boat down as much as possible. But, my "Golden Rule" is to never leave an area which should hold fish without trying at least one pass in both directions.

In any case, we were ready to bait up and get started. Some tube & wormers like to use bait other than sandworms. I have tried night crawlers, squid strips and even Berkley Power sandworms with some success. However, on this morning I was using fresh sandworms.

I often use a whole small sandworm until I locate a pocket of fish and then switch to about 2" pieces. Once we baited up, it was time to let out the lines. So I motored to a point about 200 feet from where I planned on beginning my trolling. I started to let line out while going about 5mph and cut back my speed as soon as my line was out 100ft behind the boat.

Here's a tip, if you happen to be letting out line at a slower trolling speed, you should thumb the spool occasionally and stop the line from going out for a second or two so that the tube does not sink to the bottom and get hung or fouled.

Now that our lines were out, I placed my rod in the holder, trimmed up the prop and began to navigate the shoreline in a fashion which would carry my trolled offerings over the many rocks and boulders. I try to imagine the tubes swimming just above or adjacent to those big rocks, and I always keep in mind not only where my boat is going but also where it will drag my tubes which are back some 100 ft.

As we swung wide of the first point, I saw the telltale tap at the end of my rod, then another, I was staring straight at my rod tip when the rod bent way over and the line started peeling off!! Alright!! Nice way to start!! Soon the 1st striper and the 1st keeper of the day was at the boat. When that fish hit I did a couple things that are good to keep in mind, I did not grab my rod and try to set the hook on the 1st tap. Instead, I let that fish hook itself, I also quickly glanced at the shore line to mark my location and I immediately turned the boat away from shore and continued trolling while I picked up the rod.

By the time we netted that fish, I was safely away from the rocks, out of the target area so I would not spook other fish and I had a pretty good idea where I was gonna get my next hit!! Sounds simple right?? But yet I see fisherman go into neutral after hooking up and then drift right back on top of the honey hole to fight and land their fish. Or worse yet, once the fish is landed they will gun the motor and run right over the water they intend to fish. Shhhhhh….. quiet already!! You got up early and your blessed with no boat traffic so DON"T SCARE THE FISH!!!

I swung around wide of the shoreline and made additional passes with great results that morning. In fact, we caught a striper on seven more consecutive passes. That is not unusual. Once you locate the fish they are often stacked in an area, and with a little stealth and commonsense, you can hammer them one after another.

As the day wore on and the tide turned low and slack, the action slowed considerably. "Time to change out tactics a bit," I told my Son. I switched both of us over to a longer tube one which was weighted right in the head of the tube and one which was weighted at the top of the leader with a keel weight to get the tubes down in a little deeper water.

Now we attacked a couple of isolated rock piles in about 20 feet of water. After trolling in a circular pattern in both directions around those rock piles a couple times, I found where the fish were hanging. We shortened up the distance our lines were out to about 65 feet and that enabled me to maneuver the boat in a zigzag pattern which made my tubes sort of stall right around the area where I thought the fish were.

Sure enough, we cut down our passes to a very short troll of about 50 yards and whacked stripers on each pass. Ultimately my son lost a very good fish that got him down in the kelp, which was attached to those rocks. But hey, it was still a shot at a big bass in broad daylight at the bottom of the tide and right near shore!!! So you see, being flexible and thoroughly working an area can really payoff.


Closing
There is enough information in this article to get anyone started on the tube & worm. However, like any other kind of fishing, there is no substitute for time on the water. I hope after reading this some of you will try this style of fishing for the first time, or maybe try it again and be more successful.


Trolling the tube and worm is the most affordable, dependable, accessible, method of fishing for stripers I know of. As you know, when you troll, the captain can put everybody on fish, so once you get good at it, you can bring novice "fisher people" -- young and old -- out to catch their share of stripers. It's a great way to get the kids started. It's a great way get the parents or grandparents out there a few times without the long boat ride or the workout casting all day. It's a great way to stay within your budget for fuel and bait. It's a great way to RELAX on the water and score some keepers too! In my opinion, it's a great way to fish … period!

Tight lines everyone!

Photos
Below are some photos of members of ctfisherman.com who caught their fish using the tube & worm technique with me this spring & summer: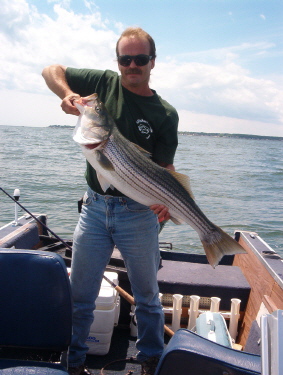 Alan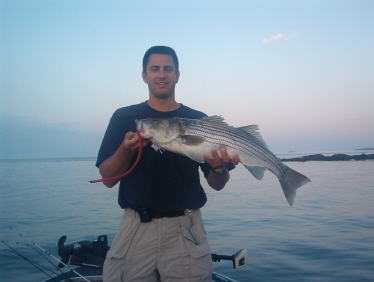 Don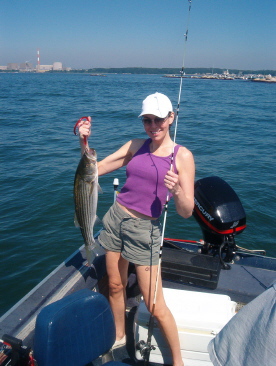 Kim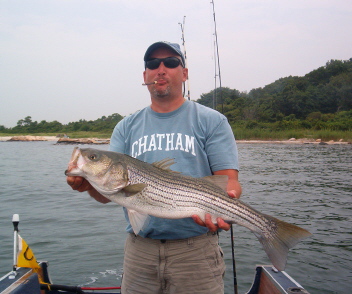 Bennett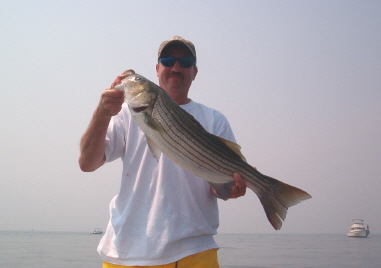 Kapt (Ron)

Dave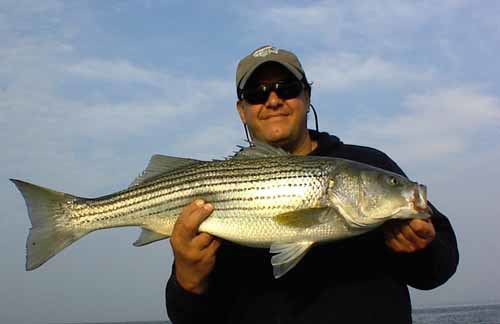 The author, Pat.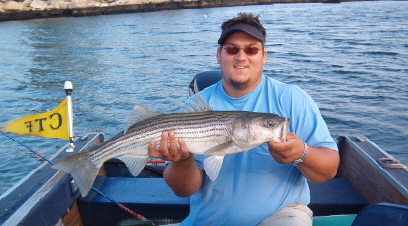 Hub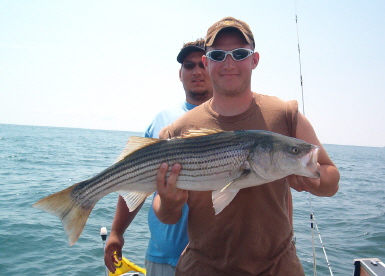 Author's son, Pat.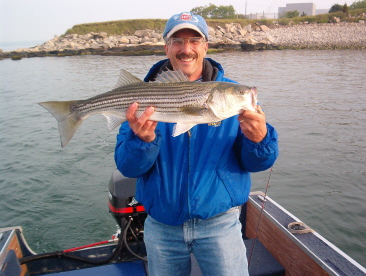 Frank
More Articles

Copyright 2004
Pat Renna, ctfisherman.com.