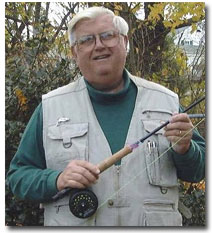 ctfisherman.com, CT DEP & The Internet
By Dick Alley
May 4, 2007
I'm not really sure whether seniority counts when it comes to angling and writing about it. After more than a half-century of fishing and nearly that long putting fishing stories on paper, I have an appreciation for the DEP on the historical side and the modern-day influence of the Internet, and the impact it has had and will have in the future.
Let me start by saying that some of my best friends work or have worked for the DEP. One of the first fishing friends I ever made was Joe Piza. He was an experienced game warden (that was their official title in those days) working the Westport/Norwalk area at the time, and I was a young cop who liked fishing during my off-duty time.
Joe went on to become a fisheries biologist. He didn't have a college degree, but his knowledge of fishing and marine biology was extensive. He worked on many projects including early striped bass studies in the western Sound, and later as a freshwater biologist in the northern end of the state. When he moved upstate, a young Conservation Officer by the name of Brian Johnson took his place. Brian and I also became good friends and even worked a couple of cases together while he was at the west end of the state. Brian also migrated north, attained the rank of Captain and eventually retired. Both Joe and Brian have passed on. Both exemplified the early days of the DEP and served the state well.
Over the years, my circle of friends has expanded within the DEP but not without a battle or two. I served on the Citizens Advisory Council to the DEP and was named as a member of the Striped Bass Advisory Committee to the Atlantic States Marine Fisheries Commission for a couple of years, attending several meetings in the nation's capitol. I found that job very frustrating as I witnessed commercial interests pretty much calling the shots along the coast. Connecticut was one of the few states without a commercial striped bass fishery. By the same token, striped bass populations increased markedly, so they maybe were doing some things right.
There will never be enough Conservation Officers. The DEP is a multi-functioned agency involved in much more than hunting and fishing. In the end, they do their best to keep users of the outdoors happy, an impossible task. The contrast between the negative side of saltwater fishing in this state and the positive results achieved in freshwater are startling.
SALTWATER FISHING
To say that the saltwater scene has gone downhill over my fishing lifetime is an understatement. The deterioration of many saltwater species is enough to make a man cry. While striped bass fishing continues to flourish and bluefish continue to hold their own from season to season, fishing for winter flounder and blackfish has been a tragedy. It is my belief that this is directly attributable to over-fishing by commercial interests. Blackfish were never a problem until the draggers started using improved gear that directly impacted where the blackfish live.
Prior to the technological advancements, blackfish were pretty much protected by where they hung out. Flounder also dwindled in proportion to the increase in technology among the commercial boats. Even though the state DEP acted quickly and decisively in limiting recreational catches, there has been little improvement over the years. Winter flounder fishing remains a disaster. We have seen improved fishing for porgies and black sea bass. Fluke fishing is still good, but always seems to be in crisis. In fairness, the saltwater side of fish management is influenced by many sources outside the State. Migratory fish are subject to federal regulations. Federal agencies like the ASMFC must answer to all of the Atlantic states.
FRESHWATER FISHING
Freshwater is the happy side of success in Connecticut angling. I believe that the sweetwater fishing in Connecticut has improved dramatically over the years. I remember that trout fishing was always pretty good. Trout were smaller on average when I was a boy. In my early years, most averaged 6 to 10-inches in length. Anything over 15-inches was a real trophy. Bass were plentiful, but big bass were not. A five-pound bass was a fish worth mounting. Walleye were stocked once many years back in Lake Lillinonah and never caught on. Northern Pike were pretty much Connecticut River fish until the program started at Bantam Lake.
The improvements in freshwater fishing haven't come by accident. Excellent management programs were created for bass, trout, northern pike and walleye. The broodstock Atlantic salmon stocking program that occurs every fall is very popular. The Quinnebaug Hatchery has tackled problems there resulting in more and bigger and healthier trout. Family Trout Parks, and Trophy Trout areas, offer a wide variety of trout fishing events and realistic limits that promote conservation and still offer good food on the table. Trout Management Areas with year-long open seasons have acquainted many anglers with catch-and-release fishing. Wild Trout Management Areas have introduced anglers to the special fishing found in many wild trout spots in Connecticut.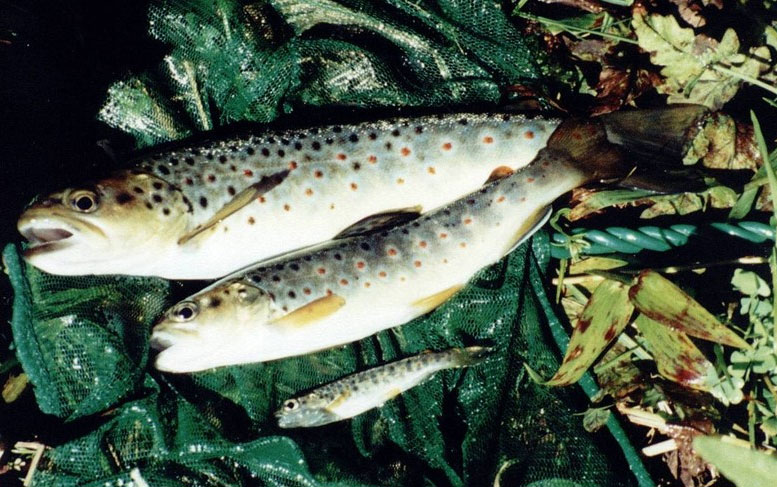 Some colorful critters photographed during a survey at the Belding Wild Trout Management Area.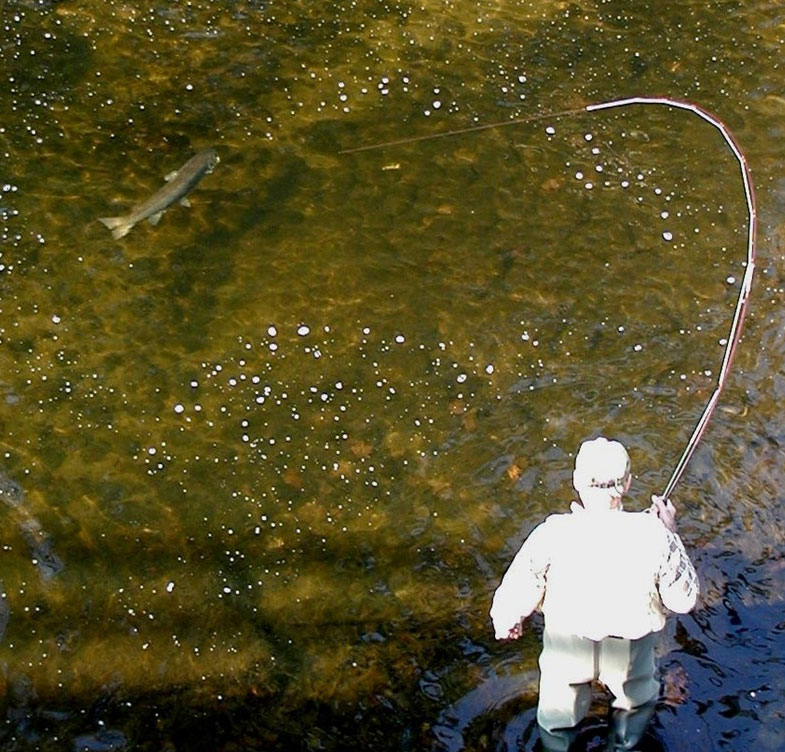 An angler plays a broodstock Atlantic salmon in Naugatuck River.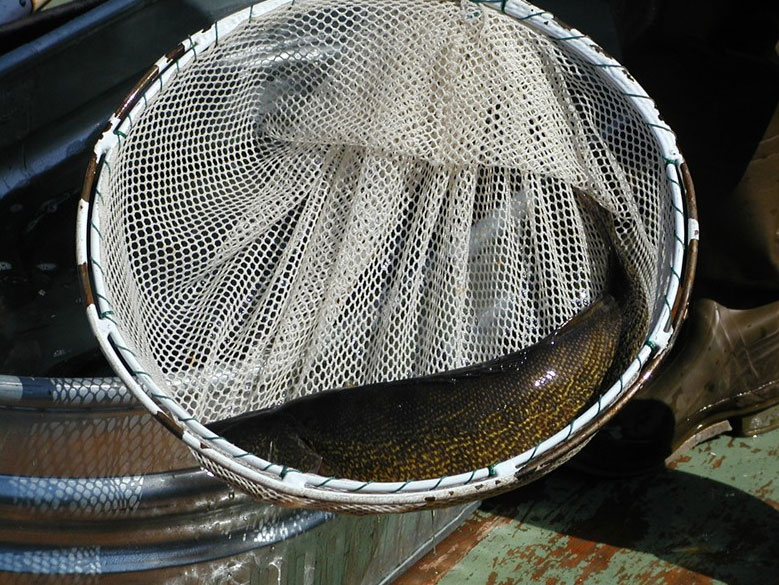 A nice walleye taken in a survey at Lake Saltonstall.
As a youngster, walleye fishing was something I read about in Sports Afield or Field & Stream at exotic-sounding locations that I dreamed of traveling to someday. As it turned out, I didn't have to go anywhere. In my senior years, walleye fisheries have been established in several bodies of water across the state.

Fishing for northern pike has seen similar success. While northern pike were a rare catch in my youth, today, I have a choice of several different spots I can travel to when I want a chance at a monster pike.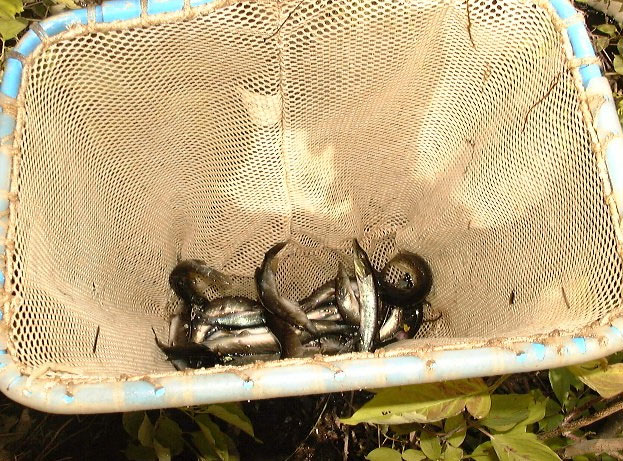 These fingerling northern pike were netted and counted by biologists at Mansfield Hollow.
The CT DEP
Accessibility to the DEP has improved dramatically over the years. Way back, when I was involved on the Board of Directors of the Striped Bass Fund, I can recall writing the then Commissioner to request that someone be assigned to work as liaison with the committee. Turned out, he wasn't all that interested. I received a somewhat terse reply that there were no resident bass populations in the State of Connecticut other than a small school in the Thames River . Admittedly, this was long before bass were being caught in the Housatonic or Connecticut Rivers with regularity, but we were doing well on early bass in Greenwich Cove in early March and would also sneak out to Manresa power plant off Norwalk throughout the winter months when weather allowed.

At any rate, the attitude in those days was decidedly different than it is today. Times have changed for the better, thanks to anglers and writers like Al Bennett, Pat Carroll, State Representative Doc Gunther and others.

Doc was the fisherman's voice in the State Legislature and was instrumental in establishing the point-to-point bunker boat line off Fairfield County. That occurred after striped bass anglers almost went to war with the big bunker boats that would sweep into the shallow waters to drag entire schools of bunker while they were fishing them as bait for bass and blues.

The improvement in accessibility from a writer's standpoint has also been excellent. In the early days it was almost impossible to set up a meeting with DEP officials. Today, I can pick up a phone and get an answer to a question in minutes. Over the last decade or more, I've been given access to many different DEP operations for stories. Everything from the broodstock salmon operation at one hatchery to covering trout surveys when taken at the Farmington River or one of the Wild Trout Management Areas.

The Internet in general, and this site in particular, is good for Connecticut fishing. The saltwater license proposal is a good example. The last time the idea was proposed, busloads of anglers from across the State showed up to oppose it. This time the proposal was out in the open from day one. It was thoroughly explained, discussed and debated, along with all of the positive and negative questions and answers. Not everyone agrees, but everyone pretty much knows exactly what is involved.

The Internet is an essential tool for fishermen. Planning to fish a particular lake this weekend? Are you maybe making long-range plans for a party or charter boat trip for tuna this summer? Maybe you've been waiting for the first shad reports in the Connecticut River. The CTF website has all the up-to-date info anyone would desire and it will continue to improve. Plenty of additional websites are available for specific information. Many tackle shops have their own sites. Manufacturers certainly have excellent information on most products.

Research that formerly would have required numerous phone calls and additional expense is now available with a couple clicks of the mouse. Everybody likes fresh information. Thanks to the reports found on this site and others, I can finish my working day, check the website and make a decision on where to go, what to use, what the weather will be, etc.. Whether I'm planning a multi-day trip or going out for a couple of hours, there is information available that couldn't be found a few short years ago.

We all tend to fish familiar waters. The Internet breeds familiarity with waters of our choosing. As an example, pick a lake you have heard about but never fished. Maybe you read a good report coming from, lets say, Mansfield Hollow. Lets say that a couple of subscribers went there in search of northern pike but instead had a great day of bass fishing and they told the story on the CTF website including a couple of photos. The report caught your eye, but you've never been to Mansfield Hollow. A mouse click on the DEP site leads to fishing information and the Angler's Guide and you find out that Mansfield Hollow is also known as Naubesatuck Lake, located in the towns of Mansfield, Chaplin and Windham and it covers 460 acres. It is a designated Bass Management Lake and a designated Northern Pike Lake and also holds good populations of pickerel, yellow perch, trout and sunfish. There is a launch ramp, a slot limit for bass and no matter how hot the day, it is illegal to take a swim at day's end. The speed limit for boats is 8 mph. Further research will reveal the rivers feeding the Reservoir and a map available in the DEP publication "Lakes & Ponds of Connecticut" will provide water depths, contours, etc..

With a choice of good bass fishing or good northern pike fishing, you might want to learn more. A click on Fisheries Management Programs reveals more info on northern pike in general and on Mansfield Hollow Pike in particular. A click on the Bass Management Plan provides links to a brochure on the plan and the lakes involved or another link to a copy of the complete bass management plan for the State of Connecticut .

That folks is a world away from the fishing world I knew at the Paper Mill Pond and Walker's Reservoir in Rockville (now Vernon ) when I was growing up.

There's more! I've been involved in conservation programs for many years. In the early years when we were fighting to preserve striped bass, a bunch of anglers from throughout the tri-state area came together to form the Striped Bass Fund. The fight was a long one and lasted many years. It involved many long drives and late-night meetings in New York, Massachusetts & Connecticut by a lot of people who received no compensation other than knowing they were doing the right thing for themselves and other anglers. There were other battles as well. I vividly recall the fight between recreational anglers and the commercial bunker boat guys that ended up in a bunker line which kept the big boats away from the shallow inshore waters. Ultimately the bunker boats gave up most of their operation and moved south. It took a long time and lots of meetings.

I compare this to the recent problem in the Housatonic River when powers that be decided to move materials from Caswell Cove to an upstream dumping area. The information exploded onto this website and within days, meetings that would have occurred over a period of months a few short years ago, were held and a decision was made to move the dumping to mid -- Sound where it should have gone in the first place.

The value of communication in conservation issues is tremendous, especially when it comes to issues effecting states or individual towns. I expect that in future incidents, consideration will be given to what the effect might be on websites such as this one, before decisions are made.

-------------

About the Author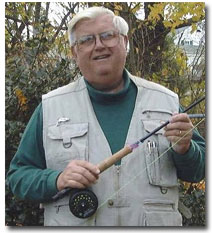 Dick Alley has been writing about the outdoors since the early 1960s. Starting with local columns in Westport newspapers, his work soon appeared in regional and national fishing publications such as the New England Fisherman, Outdoor Life, Saltwater Sportsman, Game & Fish publications of New England and others. He served as a Field Editor on the New England Fisherman for more than a decade and also wrote a weekly column in the New Haven Register for many years. You can read his currently weekly column in Norwalk's The Hour newspaper.

Dick has fished all over New England and neighboring states in both fresh and saltwaterand enjoys all methods including spinning, bait-casting, fly fishing and bathing good old shiners and night crawlers.

He grew up in Rockville, CT fishing the Paper Mill Pond, Walker's Reservoir and Crystal Lake and moved to Fairfield County in his teens where he discovered saltwaterfishing.

Assignments over the years allowed him to do stories on many of the popular party and charter boats along the northern Atlantic coastline on everything from striped bass and bluefish to tuna, cod and other groundfish.

His home territory was western Long Island Sound where he authored fishing guides on Fishing the Norwalk islands and the Fairfield County Coastline along with a guide to fishing the Saugatuck River and Reservoir.

Dick was an active conservationist, having served on the Board of Directors of the Striped Bass Fund, the Citizens Advisory Council, the striped bass committee of the Atlantic States Marine Fisheries Commission, the Committee to establish the bunker boat line.

Dick is a member of the Outdoor Writers Association of America (OWAA); the New England Outdoor Writer's Association (NEOWA); and the Outdoor Writer's Association of Connecticut (OWAC).

Dick enjoyed a successful 26-year career in law enforcement with the Westport Police Department prior to retiring to a full-time job of fishing and writing about it.